2€ DE GASTOS DE ENVÍO A PENÍNSULA Y BALEARES (CORREO SIN CERTIFICAR)
Starting on July 19, at El Grifilm bookstore we are honored to host the fantastic exhibition of the screenwriter, writer and artist Salva Rubio:
"Portraits of European Film Directors"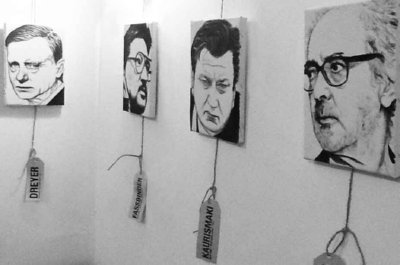 The exhibition consists of oil paintings on canvas of some of the most prominent European filmmakers such as: Bergman, Fritz Lang, Wim Wenders, Tarkovsky, Fassbinder, Fellini, Godard, Hitchcock, Ken Loach or Dreyer, among others.
In words of the artist, the exhibition presents a "study of faces and expression based on the great directors of European cinema." As a differentiating element, the portraits are executed in black and white, similar to the traditional technique of grisaille, classic photography and film.
The exhibition can be visited from Tuesday to Sunday from 11am to 8:30pm at
El Grifilm bookstore - Urueña Villa del Libro (Booktown).